Quality
End-to-End Quality Assurance
To ensure the delivery of quality springs, Pa-Ted includes product review at all stages of production, including:
Spring Design

Prototyping

Spring Production

In-Process Inspection

SPC Monitoring on Critical Dimensions
This requires a continuous investment in the best human and technological resources — an investment that we feel provides our competitive advantage.
Quality People Deliver Quality Products
Our employees are fully-trained experts in their production roles, educated and empowered to identify and correct issues before handing them off to the next department. From engineering to manufacturing to quality, everyone at Pa-Ted has a responsibility and is held accountable for their contribution to the end-product. This results in a pride in ownership that delivers industry-leading quality.
Technical Accuracy
Recognizing the potential for human error, we also employ a variety of state-of-the-art quality control equipment to test and verify everything from design specifications to loads and torques. This allows us to deliver some of the highest levels of accuracy and repeatability in the industry. No springs leave our Bristol, CT facility until we've validated the process, verified dimensional accuracy during first piece inspection and continually checked quality in production. This all helps to ensure the springs will perform as intended.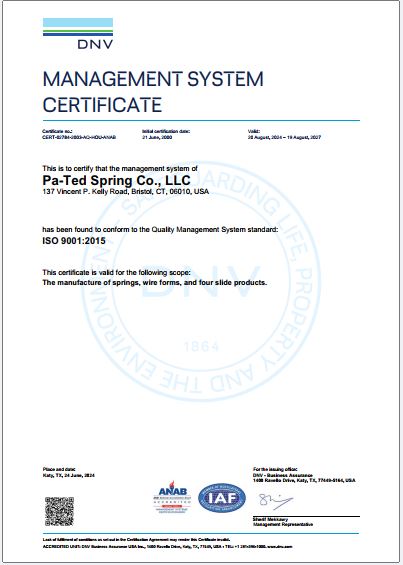 If you'd like to learn more about our quality control processes or production processes, contact us today at (860) 582-6368 to speak with one of our project managers.